Andamooka Buggy (aka. Big Foot)
 is a vehicle driven by
Ironbar Bassey
.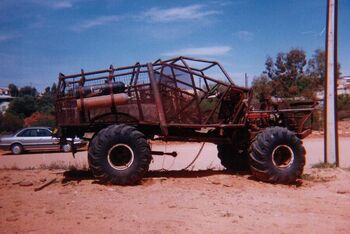 Appearances on screen
The vehicle called The Andamooka Buggy (also known as Big Foot) is driven by Ironbar Bassey in the final scenes of Mad Max: Beyond Thunderdome. It is driven onto a head-on collision with Max Rockatansky in his Camel Wagon. It is destroyed completely, broken in half with Ironbar Bassey inside. The car is built around an F Ford series truck with 44" agricultural tires and possibly a 302 Cleveland engine. In the movie it is powered by methane.
Appearances off screen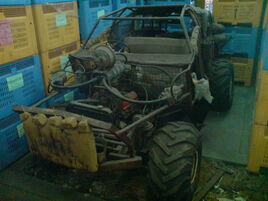 After the vehicle fulfilled its role in the film it was acquired by a company that supplied engines and gearboxes for the movie. The damaged vehicle was repaired, functional and was reported to have "whipped off tailshafts at 1-2 a week and sold for 10,000$". In 1986 it was put on permanent display in the car park of the West Terrace Focus Video store in Adelaide South Australia (presumably to draw attention to the VHS release of the film). It was here for many years and even ended up on the roof of the store at one stage.
[1]
In the 1990's it was relocated 600 km north of Adelaide and used as a tourist attraction in the outback Opal mining town of Andamooka in the 1990s.
It was showcased at the Adelaide Royal Show around 2001. Since 2007, the vehicle is fully operational and kept in storage in Adelaide.[2][3] In March 2016 it had made an appearance at the Clipsal 500 Adelaide - an annual motor racing event for V8 Supercars.
As of 2017 the vehicle has been acquired by the National Motor Museum in Birdwood, South Australia where it is displayed as one of the exhibits.
References
Gallery