"Bust a deal, face the wheel" was one of Aunty Entity's rituals that she enforces in Bartertown. If someone doesn't honour a deal, they are subject to answering for their disobedience.
Details
This ritual puts punishment at the hands of chance - much like a wheel-of-fortune as it is equipped with an arrow that will eventually stop at a number of punishments:
Death
Hard Labour
Acquittal
Gulag
Aunty's Choice
Spin Again
Forfeit Goods
Underworld
Amputation
Life Imprisonment.
Max's fate
Max ends up landing on Gulag when he disobeys Aunty. He is exiled from Bartertown upon the back of a horse, which is goaded into continuous travel through the incentive of a bottle of water dangling from its head.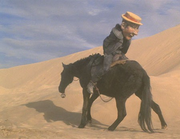 Trivia
Gulag (Russian: ГУЛАГ, IPA: [ɡʊˈlak]) was the government agency that administered the main Soviet forced labor camp systems during the Stalin era, from the 1930s until the 1950s.
Community content is available under
CC-BY-SA
unless otherwise noted.