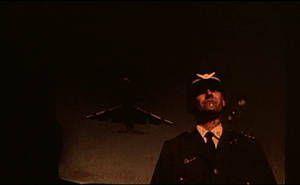 "
PARTY DEPARTED 10 SEPT. LED BY FLT. CAPT. G. L. WALKER … MAY GOD HAVE MERCY ON OUR SOULS.
"

– Inscription at the Crack in the Earth
Flight Captain G. L. Walker was the departed founder of The Lost Tribe, who they believed would return and grant them passage to Tomorrow-Morrow Land.
Origins
In the legends of the Lost Tribe, Captain Walker gathered a number of refugees during the war known as the Pox-eclipse and tried to fly them to safety in the airliner that lay at the crash site. He was among the survivors of the crash who settled in the Crack in the Earth. After the war he decided to set out to find other survivors, taking with him the 20 oldest and strongest refugees and leaving behind many others, including children born after the crash. As he left, he told the rest of the tribe that one of them would return, and was never seen again.
The concept of Walker's return became mythologised amongst the Tribe and was incorporated into The Tell, a story circle activity. At some point the Tribe salvaged a stereoscopic slide viewer, and incorporated a slide depicting a 1950s era pilot into their concept of Walker.
Years later, tribal elder Savannah Nix found Max Rockatansky near death in the wasteland and believed that he was Captain Walker finally returning as promised. The Tribe were convinced Max was Captain Walker and painted a mural onto their Tell wall.
Community content is available under
CC-BY-SA
unless otherwise noted.