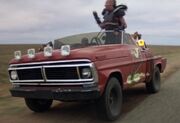 The Ford F-Series is a series of trucks produced by the Ford Motor Company since the late 1940s. Several F-series based vehicle appear in the Mad Max series of films.
Mad Max
A few F-series-based utility vehicles appear in the film.  During the films opening chase, at least two F-350-based tow trucks mobilize after seeing an MFP police chase pass by.
At least two ambulances mounted on F-series chassis are seen as well.
Mad Max 2: The Road Warrior
An F-100 plays a prominent role during the film's course of events.  A truck known as the 'snake truck' is seen being used by Humungus ' Marauders .  It is painted red, with a golden snake painted on the side.  The truck's roof had been completely removed, and also had a low-profile boat windshield..
Wez is seen riding in the Snake Truck during the film's final chase.
The Snake Truck also has at least four dart-launchers mounted on the back of the truck, which are used both to shoot at the tires of the tanker, as well as those riding on the tanker.
Another black F-100, a tow truck, is also used by the Marauders.  At one point, hostages from the refinery are tied to the hood of the truck.
According to some sources, Lord Humungus' truck is also based on a Ford F-Series Chassis.
Mad Max 3: Beyond Thunderdome
Max's Camel Wagon is based on an F-Series chassis. As is a large majority of the other vehicles in the film.
Mad Max: Fury Road
Production shots for Fury Road, the fourth film installment in the series, show what appears to be a 1970s ford F-series, with a similar front end to that of the Snake Truck from the second film.
References
http://www.youtube.com/watch?v=cXk1E4JmMOA
http://imcdb.org/movie_79501-Mad-Max.html