This marauder vehicle, often referred to as "Red XA Bat" is a heavily modified 1972 Ford Falcon XA Coupe.
The origin
Little is known about the origins of this car other than being described as one of the "Street Racers" driven by Bad Cops who go more for slick style rather than function. Although heavily modified, it is possible to identify it as a Ford Falcon XA Coupe by its sloped rear lights, door handles and the bonnet. The vehicle itself is quite similar to Max's own V8 Interceptor, not only by make, but modification too.
Technical spec.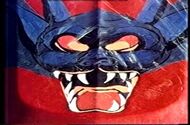 The vehicle is a 1972 Ford Falcon XA Hardtop Coupe, originally yellow in colour, fitted with a 302 Cleveland engine. Heavily modified with an XB front grille, enormous side exhaust zoomies, rear spoiler, rear dually wheel setup, lifted suspension, front spoiler with police lights, hotrod style intake manifold, a diamond plate rear bumper and finally a custom paintjob with a bat on the bonnet. Skull and bones ornaments are visible above the exhaust, very similar to the ones in Humungus' revolver case.
Appearances on screen
"The Red XA" plays a moderately prominent role in Mad Max 2, and it's been granted its very own spectacular wipeout scene. In its first appearance it's approaching the Compound with one of the captives strapped to the front of the car. It later engages in pursuit of the Mack Truck on its way to the compound, and finally takes part in the tanker chase where it meets its demise. In that chase scene it pulls up next to the tanker to enable a rogue cop passenger to pull Warrior Woman and the mechanic down from the tanker onto the road. Encouraged, Bad Cop driver speeds up towards the cabin of the truck where he is met with Max's double barreled shotgun.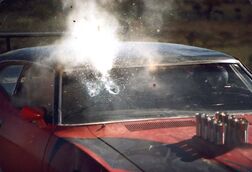 The shocked passenger of the Red XA takes the wheel as the car speeds up uncontrollably and crashes into a dune buggy. The passenger of Red XA spastically tries to take control of the car and rams it into the side of the truck's cow catcher/plow. The car gets stuck and pushes the truck slightly off the road, Max counters back and with brute force of the truck manages to get back on the road, while the passenger of Red XA frantically tries to steer the other way. The car finally manages to unhook itself from the cow catcher, swivels right in front of the truck and is brutally T-boned, rendering the car completely wrecked.
Appearances off screen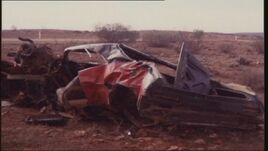 The car, or rather what was left of it were most likely scrapped after the production was ended.
Gallery