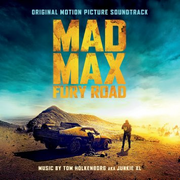 The Mad Max: Fury Road soundtrack was composed by Junkie XL. It was released on 12 May 2015 through WaterTower Music and features over 2 hours of music from the film.
Content
Tracklisting
Survive
Escape
Immortan's Citadel
Bloodbag
Buzzard's Arrive
Spikey Car
Storm is Coming
We Are Not Things
Water
The Rig
Into The Canyon
Brothers in Arms
The Chase
Moving On
The Bog
Redemption
Many Mothers
The Return To Nowhere
Claw Trucks
Immortan
Chapter Doof
Valhalla Awaits
My Name Is Max
Let Them Up
Mary Jo Bassa
Coda
Related music
The classical piece by Giuseppe Verdi, "Messa Da Requiem - Dies Irae", was featured in the film's theatrical teaser trailer and was received very well by critics and fans.
References