This article is for the 2010 fan-film produced by Jason Kyle, for the 2013 DC Entertainment comic produced by WB Games see, Mad Max: Motion Comic.
Director
Jason Kyle; Nick Bouterey (Animation)
Writer
Jason Kyle (Concept & illustration)
Release Date
12 November 2010
Mad Max: The Motion Comic is a 2010 fan-made short-film written and drawn by Jason Kyle.
Plot
Engaged in a heated chase through a desert canyon, Max and a wastelander battle it out.
Conception and production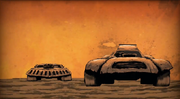 The short-film serves as a teaser for a graphic novel idea Jason Kyle had in late 2009, and is a collaborative effort between the illustrator Jason Kyle and animator Nick Bouterey.
The story tells a re-imagining of Mad Max. This animation piece was produced for his Graduate Exhibition.
The teaser utilises the soundtrack from the series.
See also