Welcome to The Mad Max Wiki
The wiki about the
Mad Max
series that
anyone can edit
The Mad Max Wiki Blogs - The Mad Max Wiki Forum
Contact Admins - Manual of Style - Maintenance Reports - Edit Sandbox
Mad Max: Fury Road critic reviews
The Telegraph

~ Empire

~ The Guardian

Time Out

~ Total Film

~ Forbes

"We kept it straight. It's all there. Everything marked, everything 'membered. You wait, you'll see."
―Slake, leader of the Lost Tribe
Character Profiles

Items

Locations

Vehicles

MFP Vehicles

The Big Bopper
The March Hare

Goose's KZ1000 Kwaka






Featured Blogpost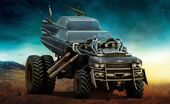 The Vehicles of Fury Road, written by XD1. (19th January, 2015)
Take a look at these amazing wasteland beasts! If you had to choose one as your best chance at survival, which of these would be your favorite pick?
The Tell: What's new
25 June 2014 - Entertainment Weekly's July 2014 issue reveals all new production stills from George Miller's upcoming movie, Mad Max: Fury Road. [1]
25 April 2014 - Avalanche Studios release the "Magnum Opus trailer" from their upcoming video game, "Mad Max" that showcases the game's vehicular combat and customisation.
19 July 2013 - A tie-in motion comic serving as a prequel to the 2014 Mad Max game premieres at Comic-Con 2013. [2]
15 July 2013 - Avalanche Studios have released in-game footage of their upcoming Mad Max videogame, depicting both brawling and vehicular combat. [3]
10 June 2013 - Footage from the upcoming Mad Max video game is finally revealed at Sony's E3 press conference. The game is currently being developed by Avalanche Studios. [4]
22 January 2013 - A video has surfaced, showing several vehicles used in the production of Fury Road. [5].
24 December 2012 - The first image of Tom Hardy as Max is released and its authenticity confirmed by Warner Bros. [6]. The filming has also finished just in time for the closure of 2012 [7].
15 August 2012 - A plot summary of Mad Max: Fury Road has surfaced. Head over to this article to find out more!
2nd July 2012 - Mad Max: Fury Road has finally begun filming! It has also been confirmed that George Miller will no longer be shooting the film in 3D, opting for a post-conversion. The go-ahead on filming has been confirmed by co-star Charlize Theron's recent buzzcut for her role as Furiosa. [8][9].
21st July 2011 - IMDB has taken Jeremy Renner off its Mad Max: Fury Road page. Tom Hardy is credited as "Max" with Charlize Theron listed as "Furiosa" and Nicholas Hoult as "Nux."
Mad Max 4 has been re-green-lit for January 2012 filming. Tom Hardy has been locked-in as Max. Only a finished product will tell us how that decision turns out, but hope for the best. [10]
11th July 2011 - Ford Australia unveiled two sweet-looking concept cars based on Max's Pursuit Special Interceptor. For the full article and a video follow the link. [11]