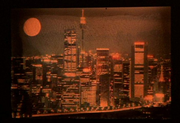 Tomorrow-Morrow Land was a mythical location embedded in the tales of The Lost Tribe and corresponded to the civilization that existed before the Pox-eclipse.
Description
What little information the children from The Crack in the Earth had about the location they came from was gradually turned into a legend. With help of word of mouth storytelling and a few slides that had barely any connection with each other, the Lost Tribe created a legend where the Tomorrow-Morrow Land was their place of origin with 'high scrapers', 'rivers of light', 'sky raft' and their savior - Captain Walker. The images they had of this place are in fact pictures of Sydney from before the Pox-eclipse.
Reaching Tomorrow-Morrow Land
The tribe eventually reaches their Tomorrow-Morrow Land onboard "The Flying Jalopy" with Jedediah as their pilot. It is revealed to them that the location is now a dilapidated city smothered in sand and dust. The Sydney Harbour is dried up and the bridge destroyed. Buildings are destroyed as well, with only their bare bones skeletons in place. The Lost Tribe settles in that place and tells "The Tale" each night with torches in windows to guide lone wanderers to a place they can call 'home'.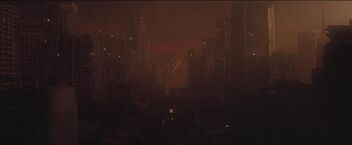 Destroyed Sydney model
Dennis W. Nicholson worked on the model of destroyed Sydney aka 'Tomorrow-Morrow Land' The Lost Tribe eventually settles in. Unfortunately, the models were too big to be stored and had to be destroyed.
Community content is available under
CC-BY-SA
unless otherwise noted.