We Don't Need Another Hero (Thunderdome)
Tina Turner
Released
1985
Recorded
1985
Length
4:15
Label
Capitol
Produced by
Terry Britten
We Don't Need Another Hero or We Don't Need Another Hero (Thunderdome) is the hit theme song from Mad Max: Beyond Thunderdome, performed by Tina Turner, who starred as Aunty Entity in the film.
The song appears on the soundtrack to the film and was released as a single. It was also released on Turner's album Private Dancer.
Music Video
The music video features Turner dressed in her costume from the film, a heavy chain mail gown. As several spotlights shine on her, she proceeds to sing atop a platform while various scenes from the movie are interspersed. In the last portion of the video, Turner is accompanied by a children's choir and Tim Cappello, her tour saxophonist, percussionist and keyboardist at the time. The music video received an MTV Video Music Award nomination for Best Female Video.
Recording
Turner was backed by a choral group from King's House School in Richmond, London. One of the choir members who appeared on the record, Lawrence Dallaglio, became famous as a rugby union star and captain of the England national team.
Recognition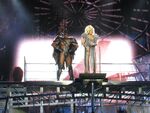 We Don't Need Another Hero became one of Tina Turner's greatest worldwide hit singles. It peaked at #2 on the United States' Billboard Hot 100, at #3 in the UK charts and #1 in Switzerland, Poland, Spain, Germany, Australia and Canada.
The song received both a Golden Globe nomination for Best Original Song, as well as a Grammy nomination for Best Female Pop Vocal Performance.
In 2008 Turner performed the song live. She appeared on stage at Madison Square Gardens wearing a modern interpretation of Aunty Entity's iconic chain-mail costume. Surrounding her were recreated Thunderdome props, as well as Aunty Entity's militia. Combatants also fought within the mock Thunderdome [1]. Turner has since performed it several times on tour [2]
Cover versions
There have been many cover versions of the song. Genres range from jazz piano to heavy metal.
In 1985-1986, the Argentine-Oceanian person Lorena Novoa covered this song in 3 episodes of Young Talent Time.
In 1988, Johnnie Nuich and Courtney Compagnino covered this song in the Universal Studios Hollywood episode of Young Talent Time.
In 2000, Swedish singer Regina Lund covered the song on her album Year Zero. Her version was a jazzier rendition which was softer and slower.
In 2007, Northern Kings, a Finnish heavy metal group, covered the song on their debut cover album Reborn.
In 2012, Espen Eriksen Trio, a Norwegian jazz piano group, covered the song as an instrumental on their album What Took You So Long.
References